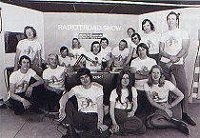 Original Roadshow crew; Johnny Beerling standing on the left and Alan Freeman behind the desk. - Click to enlarge.
nb - is that Pete Tong on the right !!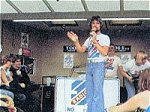 The Roadshow also visited inland destinations such as Mallory Park for race events and Longleat. A 'Goodie Mobile' accompanied each Roadshow selling Radio 1 mugs, stickers, t-shirts, hats, posters and pens. The DJ's often made themselves available for autograph signings on the day. Fun games were invented, including 'Bits and Pieces', 'The Mileage Game'. Many shows included guest appearances by performing pop groups.
Noel Edmonds said in an interview that "the Roadshow was more like a holiday than work, and BBC bosses should provide tuition on dealing with hangovers!"
Early Roadshow caravan towed
by Range Rover (1975)
- Click to enlarge

Roadshow poster (1975)
Smiley Miley from Bristol began as a roadshow driver and salesman and became tour manager. He invented the long running Mileage Game, where members of the audience guessed how far the team had travelled between venues.

Tony Blackburn 1976