INTERACTIVE » Audio Help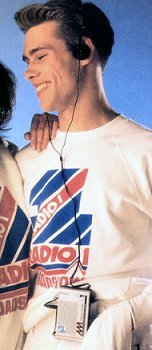 Anyone with a computer connected to the internet can download and listen to the mp3 clips on Radio Rewind. You will need a media player on your computer (many computers come with Windows Media Player installed) and you'll also need speakers or headphones.

There is no charge.

Note that most users have no problem downloading the Radio Rewind sound files so it is most unlikely that a problem encountered is due to a fault with the Radio Rewind site.

I recently added a FLASH way to play back mp3's without leaving the page or browser. Please click on the tiny 'play' button
next to the link. Remember to press 'stop'
when finished. (Do not click on the adjacent underlined mp3 links also). You will require Adobe Flash Player. Click here to check. Click here for free download. You also must have Active Scripting enabled in your browser's security settings.
PLAYBACK
Overview
You don't need an iPod or other portable mp3 player to listen to the downloads; the advantage of transferring the downloads onto these players is that you can listen on the move. Unfortunately Radio Rewind cannot answer individual problems with hearing our files however if you can't hear anything it would be wise to check the following;
If using the buttons, ensure you have Adobe Flash Player installed. Click here to check. Click here for free download.

That you have a media player on your computer (e.g Windows Media Player, iTunes or Real Player). If not, you can download media player here for most PC's and here for Apple Mac.

The sound is turned up on your machine,

Your speakers or headphones are connected.
You can right - click on the audio link to 'save target as' to your hard drive if you wish to listen repeatedly; also with this method you will not have a stream buffering part way through. Once you've downloaded the file you can usually double click, launch a media player, and listen to the audio at your own convenience. Please note it takes about 3 minutes to download a 1MB file with a 56k modem.
The variation in quality and bitrate between clips is due to many reasons, including the fact that Radio 1 was broadcast on AM for most of the time until 1988, which of course is lower quality. The lower bitrate is sometimes necessary on longer recordings, to save on server bandwidth and disc space costs. Additionally, it is taken into account that many users have only a 56kbps dial-up modem. In addition the majority of recordings were made on cassette or reel to reel tape which degrades over time.
KNOWN PROBLEMS
Please remember that most users have no problem downloading the Radio Rewind sound files so it is very unlikely that a problem encountered is due to a fault with the Radio Rewind site. Problems are usually beyond our control.
1) Firewalls; If you are visiting Radio Rewind from work, you may have problems connecting to our media server because of a "firewall". You may want to ask your system administrator to reconfigure the firewall to allow streaming audio. Also if you are using a firewall or a "proxy" or "caching" server then you may not see graphics on a page or download any clips. AOL sometimes places customers on a "proxy" server when you log on. Try again later. Other known problems are -
2) Association problems where' Microsoft Word' or another programme loads instead of Windows Media Player. Solution;
To hear the files you have to get them to open with Windows media player. To do this run Windows media Player (Start --> Programs --> Accessories --> Entertainment --> Windows media Player) and then click on the View menu, then Options. Click onto the 'Formats' tab and then hit the 'Select all' button, then click OK and exit Windows media Player. When you click to open a sound file they should then open up in the correct program.
For more detailed help click here for the Microsoft Windows Media Player FAQ pages.