Light Programme Demise
Rock and Roll Mate!
Elvis Presley released That's All Right Mama in 1954 and a new genre of music, rock and roll was born. The younger generation began to buy different records than their parents; records which which offered teenagers more than just music - it was a new
attitude of youthful rebellion which ran into films, fashion, lifestyle and language. The record buying public had become divided, but the BBC's light music station did not fully reflect the change for this new, young audience. Pop music fans in the UK during the 1950's and early 1960's who tuned in to hear the latest hit discs on their radio could only listen to them on certain Light Programme shows like Pick of the Pops and Family Favourites. At night continental Radio Luxembourg faded in and out, but gained an enormous audience share with it's rock and pop music output.
New Shows
The BBC reacted to this new trend in the early and mid 1960's with 'specialist' pop programmes featuring rock and roll, such as The Beat Show, Easy Beat, From Us To You, Here We Go, The Ken Dodd Show, On The Scene, Parade Of The Pops, Pop Go The Beatles, Side By Side, Steppin' Out, Let's Go, Swinging Sound '63, The Talent Spot and Teenagers Turn. However these shows were broadcast for relatively short runs and often included live music as opposed to records, from one or two artistes. Shows like Here We Go, Pop Go The Beatles and others were entirely live with no records played, while the longer running Saturday Club and Top Gear were a mixture of records and pre-recorded live sessions. This was because a certain amount of live music time had to be alloted to counter the growing amount of time given over to the playing of records, or 'needle time'.
NEW Tony Hall presents Let's Go August Bank Holiday 1965
(Music for "Mods, Rockers and Soul people" broadcast on BBC Light Monday 30.08.65.
With sessions by the the Rolling Stones and Herman's Hermits.)
Radio Luxembourg/ BBC DJ Tony Hall was promotional manager for Decca Records during the heyday of their London label and was later manager of The Real Thing, Loose Ends and David Linden Hall.
Thus many of the newer pop shows featured BBC bands playing cover versions of hits, bands like the Northern Dance Orchestra and the Midlands Dance Orchestra, who were Musicians Union members and had to be employed to fulfil the BBC commitment to live music. By 1967 The BBC was only allowed five hours per day of commercial gramophone records playing on air.
Rock and roll could not fit in so well with the existing Light programming style. Much of the traditional audience, many of whom had listened since the War, found this new, loud and raucous style of music an annoying interruption when played next to light orchestral pieces or a magazine show.
New Radio Stations
The situation was soon to change, however, following the coming of the pop pirate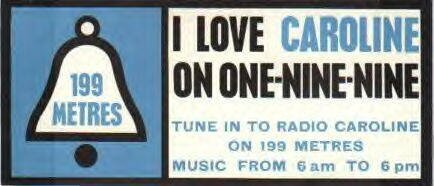 ships in 1964. First came Radio Caroline and Johnny Walker promising 'all day music'. More ships came along; Radio London, Swinging Radio England, Scotland, 270, 390, 355, BBMS, These broadcast to highly populated coastal areas, taking advantage of a legal loophole enabling them to broadcast offshore. The owners had no agreement with the Musicians Union and played original recorded rock and pop records for most of the day.
As the 1960's wore on, the rise of pirate radio and suppression by Government spelled the end for the Light. TV had already eaten substantially into its audience particularly during the evening. The days when you could hear three top comedy shows in one evening had long gone.
In 1966 Parliament debated that legal action was required to thwart the pirate broadcasters since the stations were using former WWII installations (forts), wavelengths allocated to other broadcasters by international treaty and were playing copyrighted recorded music. Other charges implied that the offshore radio ships were a danger to shipping on the high seas and their spurious signals could interfere with aircraft and land based emergency communications by police, fire and ambulance services. This action would lead to a daytime musical void which only the BBC could attempt to fill.
End of the Light
The Postmaster General, Edward Short, asked the BBC to create a 'Popular Music Service' on 247m during the hours outside peak-viewing of television. The BBC reported in August 1966 that they were finalising plans for a 24-hour radio music station to replace the condemned pirate "pop" ships. It was originally to be called Radio 247, (name favoured by Controller Robin Scott) aimed to attract the millions then listening to pirate broadcasts. It would use all the present music programmes broadcast by the Light Programme, including Housewives' Choice and Double Spin. But when the Light broadcast talks or drama, such as Radio Newsreel or The Dales, Radio 247 would put in music and leave the main service to the Light Programme 1,500-metre waveband. But, the BBC stated, Radio 247 would not be all "pop." It would carry news headlines and 'occasional classical music'.
The Marine Broadcasting Offences Act became law on Monday, August 14, 1967. As a result of the Act, the offshore radio stations would become criminal enterprises if they continued operating as before. All but one, Radio Caroline, immediately closed down.
Radio 2
Six weeks later, at 2am on Saturday 30th September 1967 Roger Moffat played the last piece of Music on the Light 'That's Where It Is' by Woody Herman and His Orchestra. He then announced the final closure of the station.
Roger Moffatt switches off the Light
The Home Service was renamed Radio 4 and The Third Programme Radio 3. Most of the the existing Light pop shows were taken away for broadcasting by a new radio station called Radio 1. The Light Programme was renamed Radio 2.
Links to other Light Programme pages heard can be found below.