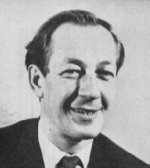 Brian Matthew in 1967
EARLY DAYS

Born in Coventry on September 17th 1928, Brian Matthew was the son of musical parents. His mother was a professional singer and his father a conductor of the Coventry Silver Band.
Brian started his radio career in 1946 whilst in the Army on BFN Germany reading the news, introducing records and acting.
He joined RADA in 1949 and appeared with the Old Vic Company, where he met his wife to be, Pamela Wickington, whom he married in 1951. From 1952 to 1953 he was heard as a presenter on Radio Netherlands Worldwide, based in Hilversum.
Coming back to England, he became a milkman in Coventry for a while, until the BBC approached him to become an announcer; he began with them on 25th July 1955 and was announcer and producer for six years.
LIGHT PROGRAMME
His first major break was presenting a new show, Saturday Skiffle Club on the Light Programme from 1 June 1957. Skiffle music was quite popular at the time and is made with acoustic guitars, a washboard and home made instruments. This 30-minute Saturday morning show was aimed at teenagers and featured two or three singers with a skiffle group. Songs covered blues, ballads, work and country songs. Guest acts included Chas McDevitt with Shirley Douglas, The Vipers, Lonnie Donegan and George Melly.
With falling popularity of skiffle music, the show was renamed Saturday Club from 4th October 1958 and extended to two hours. Live acts were heard featuring up-and-coming talent. Saturday Club soon became a prestigious radio show. The theme tune was Humphrey Lyttleton's Saturday Jump . Acts included Adam Faith, Clinton Ford, Jim Dale, Gene Vincent, Eddie Cochran, Craig Douglas, Bert Weedon , Acker Bilk. Lonnie Donegan, the Everly Brothers, Jerry Lee Lewis, Bo Diddley, Chris Montez, Tommy Roe, the Beatles, Frank Ifield, and Kathy Kirby. Later editions included the Wayne Fontana, the Searchers, Jimi Hendrix, Manfred Mann and the Who. Brian introduced the acts and chatted with them each Saturday until the 23rd September 1967, three months before the show was scrapped.
From 1959, Brian Matthew was also heard on a new Sunday mid-morning Light Programme pop show called Easy Beat. Originally produced and compered by Brian, like Saturday Club, the show was recorded at the BBC Playhouse Theatre just off Trafalgar Square in front of a live audience. Regularly featured were Kenny Ball s Jazzmen, resident Johnny Howard Band, Laura Lee, Tony Steven, Danny Street, guest artistes such as Bert Weedon, Cilla Black, the Beatles and BBC top tunes. The show ran until 1967.
RADIO TWO

In 1973 Brian Matthew was heard on Radio 1 presenting My Top Twelve. This was a new series where guest music stars were invited to select twelve of their favourite music tracks to make up an imaginary album and chat with Brian about their career.
Guests included Brian Ferry, Ringo Starr, Keith Emerson, Rod Stewart, Joni Mitchell and Neil Diamond.
During the early 1970's Brian was heard regularly on weekday evenings on 2 with an easy listening music show After Seven.
He became the host of BBC Radio 2's arts magazine show Round Midnight show from Jan 1978 to Spring of 1990 in which he presented music and interviews with personalities from the world of arts including Sir George Solti, James Cameron, Henry Mancini, Peter Schaufuss and John Fowles.
Since April 1990 Brian Matthew has hosted the popular SOTS (Sounds of the Sixties) show on Radio 2, playing record requests for 1960's records. The theme tune is the Shadows' Foot Tapper.
In his spare time Brian likes to sail and he has his own yacht called "Round Midnight". He is married with a son and lives in Kent.
Brian presented a special show on Radio 2 on Saturday 4th October 2008 celebrating fifty years since the launch of Saturday Club. He mentioned highlights and happy memories during the making of the show as well as playing some of the original performances.
RADIO REWIND AUDIO CLIPS

Please check Audio Help Page in case of difficulty downloading. You will need a username and password. Please register. Then you will be able to login.

Audio BBC
Top of the Pops 1963 (radio show)
This hour- long programme was aired on the Light during 1963...the
show included top acts performing in front of a live audience.
The Tremoloes, David Ede's Rabin Band
Saturday Club 5th Birthday 1963
Intro (low quality)
Easybeat 1964
After Seven 1977
Radio 2 Jingle Intros including Round Midnight - the World of Entertainment
Sounds of the Sixties
Theme tune; Foot Tapper by The Shadows
+++++++++++++++++++++++++++++++++++++++++++++++++++++++
NOTES;
M105 M24 M108 MD152 audio clips (SOTS) samples to be made and added. Should include intro if poss.

SOUND FILES TO BE NORMALISED

Album Art attached to .mp3's to be Radio 2 Logo.
CD50

MP3 CD FROM ANDY SMITH AUGUST 05

1

18\4\1963

BBC LIGHT BRIAN MATTHEW SWINGIN SOUND 63 18\4\1963 MP3 PART 1

2

18\4\1963

BBC LIGHT BRIAN MATTHEW SWINGIN SOUND 63 18\4\1963 MP3 PART 2

CD66

4

5\10\1963

Brian Matthew Saturday Club 5\10\1963 Pt 1

5

5\10\1963

Brian Matthew Saturday Club 5\10\1963 Pt 2

CD65

8

22/11/1963.

BBC Light Brian Matthew Easybeat Clip & M\F DJ s Unknown Armed Forces Request Clip 22/11/1963.

Cd19

1970s

From the Chris Media Suite After Seven - Brian Matthew - (Radio 2 show 1970's)

M105

Radio 1 Clips from Terry Ingram - Disc 3 includes; Terry Wogan, Brian Matthew TOTP, Gary Davies Blooper, In Concert with Rory Gallagher, Radio 1 More Time New FM, Diana Ross presents the Golden Hour,

ALREADY ON CD 128!...

M24

05.04.03

Sounds of the 60's Radio 2 05.04.2003.

M108

25.09.2004

Sounds of the Sixties R2 25.09.2004

MD152

30.09.07

Disc 2 of 3 Radio 2 Anniversary shows from 13.23pm Family Favourites and Smashy & Nicey & Brian Matthew

NOW ON MP3!...