Radio 2 History
1967-1969
Radio By Numbers
The network radio changes on the morning of Saturday, September 30th 1967 gave birth to "radio by numbers". The new pop music network on 247m was called Radio 1, the Light Programme became Radio 2, the classical Third Programme was renamed Radio 3, whilst the oldest channel, the speech based Home service, became Radio 4.
Radio 2 benefited from fade - free national UK coverage on Long Wave plus the higher audio quality of VHF for most of the day.
Launch Day
Paul Hollingdale

'This is BBC Radio 2, the Light Programme on 1500 metres Long Wave and VHF and Radio 1 on 247 metres. Good morning, this is Paul Hollingdale on this opening day of Radio 1 and Radio 2 welcoming you to Breakfast Special'

Radio 2 launch (6 min)
The station was launched at 5:30AM. Thirty year old Paul Hollingdale was first voice heard on both stations when he began his early morning music show Breakfast Special. He played a jingle heard across both networks called 'Wake Up Easy'.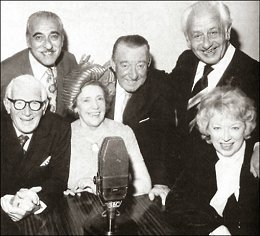 Some of the presenters who introduced Radio 2 to the public and featured regularly on the Light (l-r standing) Sam Costa, Wilfred Pickles, Geraldo and (seated) Henry Hall, Doris Hare and June Whitfield.
He then played the first Radio 2 disc; The Sound Of Music sung by Julie Andrews. Paul had been heard presenting on BBC Radio since 1964 on light music and pop shows like Newly Pressed, Swing Into Summer and Swingalong. His show continued until 8.30 when Leslie Crowther took to the Radio 1 and 2 airwaves with Junior Choice (a renamed Children s Favourites).
Publicity of the day centred on the new Radio 1 disc jockeys, and it should be said that Radio 2 stayed much where it's predecessor the Light Programme had been, featuring the likes of Max Jaffa, Sandy Macpherson, The Band of the Welsh Guards and Semprini. However the opening night of the new service brought Spotlight 1 and 2, a one hour special compered by Kenneth Horne. Then a radio host, Britt Allcroft chatted with Robin Scott, Radio 2's controller who had the task of reshaping popular radio. strong taste of what was to come, including Michael Parkinson on sport, David Frost with record requests, a drama featuring Patrick Allen, Jimmy Hanley playing more records, and Kenneth Williams and Hugh Paddick as the already celebrated Julian and Sandy.
Some Light programmes were lost as a consequence of the new split Network, such as the long running and popular weekday morning show Music While You Work, the daily afternoon jazz and swing show Swingalong and Sunday morning's 90 minute pop show Easy Beat. Others were moved to be heard only on Radio 1, like Saturday Club and Country Meets Folk. Certain Light shows were now heard across both of the new networks; Breakfast Special, Junior Choice, Pick of the Pops, Jack Jackson Show, Family Favourites. This meant that much of the old Light's output carried on as before.
Saturdays in 1967
5.30 am News
5.33 Breakfast Special with Paul Hollingdale (as former Light Programme schedule) with resident bands and singers of the week, discs, news, weather, and traffic reports
8.32 As Radio 1 (Junior Choice - childrens record requests with Leslie Crowther - formerly called Children's Favourites at an identical time slot on the Light programme)
Jack Jackson spins the discs on Radios 1 & 2 at 1pm
9.55 Five to Ten (as Light Programme - Religious Message)
10.00 Melody Time (was the timeslot for Saturday Club on Light Programme) MAX JAFFA and SANDY MACPHERSON with live orchestral music, choirs and solo singers. Sandy Macpherson plays the organ.

12.00 Marching and Waltzing (Brass Band Music)
1.00 As Radio 1 (The Jack Jackson Show - as former Light Programme schedule)
6.32 Those Were the Days (Old time and sequence dancing - as former Light Programme schedule) Old time and sequence dancing played by SIDNEY DAVEY AND HIS ORCHESTRA with a guest singer. Introduced by BILL CROZIER. M.C., CHARLES CRATHORN who also brings news from the world of traditional dancing Dance hostess, Sylvia Crathorn Dance leaders, Holland and Sylvia Brockbank.
7.30 News, Weather
7.35 Million Dollar Bill If you had all the money in the world to stage an all-star entertainment, whou would you invite to appear Special guests make their own choice with the aid of soundtrack and records and ROBIN BOYLE persuades him to say why.
8.15 Follow the Stars (Similar to former Light Show Be My Guest)
9.15 Wonderful Copenhagen (music)
10.00 As Radio 1 (
Late Night Extra - new show with Bob Holness)
12.00am Midnight Newsroom
12.05 As Radio 1 (Night Ride with John Curle - new show)
2.00 News
Radio 2 closed at 10pm during the 1960's after which time 'Radio 1 programmes' were heard but these shows with theatre chat and light music could hardly be considered formats fit for the new pop network, and in fact by 1971 became Radio 2 shows.
Over 7 hours of Radio 1 shows were heard on Radio 2 during weekdays; Family Choice (a renamed Housewife's Choice) an hour of music and chat on the Jimmy Young show, pop with Midday Spin plus evening shows Late Night Extra, with a rota of presenters Bob Holness, Pete Myers, Barry Alldis, Mike Lennox and Terry Wogan. Programmes between 10.00 PM and 2.00 AM were billed in Radio Times as being Radio 1 shows, however it could be argued that considering their content of showbiz chat and music perhaps they should have been classed as Radio 2 shows and in fact in 1971 did become so.
Weekday Radio 2 programmes following the 1967 launch found in the morning included Breakfast Special with a rota of DJ's John Dunn, Paul Hollingdale and Ray Moore; Family Choice with Pete Murray at 9.00 (both networks); an hour of Jimmy Young, and drama with The Dales. At midday from September 1968 was heard a new two-hour midday melody show presented by Sam Costa followed by Woman's Hour, Brian Matthew with Roundabout (news, views and music). Evenings included a World quiz, Any Questions and Any Answers with Malcolm Muggeridge, evening comedy with Does the Team think The Likely Lads, David Allan presenting Country Style, with spots from country greats. Billy Cotton's Band Show was still aired, plus a 30-minute 'kitchen sink' play could be heard.
Kenneth Horne
Sundays included Melodies for You (from 1966) presented by Eric Robinson in the morning, Family Favourites and Billy Cotton in the afternoon with Alan Freeman's Pick of The Pops, Sing Something Simple and The Grand Hotel which featured Reginald Leopold and the Palm Court Orchestra. The tradition of Sunday lunchtime comedy continued until the end of the decade with Round the Horne (I'm Julian - and this is my friend Sandy) starring Kenneth Horne and Kenneth Williams.
Other popular 1960's programmes included; Katie Boyle with Pop Over Europe
featuring European presenters introducing top tunes of the month. The Clitheroe Kid (1957-1972) featured the antics of diminutive adult comedian Jimmy Clitheroe in his role as a cheeky schoolboy living with his family. Brian Johnston's Treble Chance was travelling quiz show where teams had to answer general knowledge questions and identify sounds and snatches of music. 1969 launched Robin Richmond with The Organist Entertains. Also during 1969, Derek Nimmo introduced records at midday on Saturdays with Nimmo at Noon.
Terry Wogan gave up the late nights in 1969 to host his own weekday afternoon record show aired on both Radio 1 and 2.
Pete Murray
Pete Murray invited listeners to his Open House show from 1969, a music and magazine style mid morning slot featuring celebrity guests which ran throughout the seventies.
In April 1969, a new daily serial set in a Hampstead lodging house and called Waggoner's Walk replaced the corporation's first - indeed, prehistoric - radio soap The Dales. In sharp contrast to Mrs. Dale and her pristine china tea cups, Waggoner's Walk with the Vanghan family threw the listener into social problems such as abortion, child custody, hypothermia, murder, and relationship confrontations.