Light Programme Music
Music While You Work (1940-1967) this half-hour show featured a different band playing a non-stop medley of popular tunes. Launched during the war, it could be heard on the Light weekdays at 10.30am and again at 3.45pm. The lovely theme tune was by Eric Coates and titled Calling All Workers. The show format was resurrected briefly under the title Music All The Way weekday afternoons on Radio 2 1984-85. Resident bands included Ralph Elman And His Bohemian Players, Bernard Monshin And His Rio Tango Band, Michaeloff & His Orchestra, Lionel Falkman And His Apache Band and Troise And His Banjoliers. Oddly these names did not seem to exist outside the BBC.
Two-Way Family Favourites (1945-1984) was a record request programme designed to link families at home in the UK with British forces posted overseas in West Germany and further afield. The half - hour Tuesday evening show was expanded in 1960 to a longer 90 minute Sunday show with a radio announcer telephone link from the linked BFPO Country. It was presented amongst others by Cliff Michelmore, Jean Metcalfe, Michael Aspel, Sarah Kennedy and finally Jean Challis. In the 1950's and early 1960's Family Favourites was one of the few BBC radio programmes devoted exclusively to records, so its audience was in consequence huge, going far beyond the audience at which it was aimed. It offered the 'real thing', the popular records themselves which by the late 1950s were what people wanted to hear, as against versions of the songs being played live in a studio in London. Theme - With A Song In My Heart by Andre Kostelanetz.
Housewives' Choice (1946-1967) was aired 9.00 am on weekday mornings. Record requests and dedications were played for the nation's housewives who were left at home while their husbands were at work. The creator and producer was Pat Osborne. The first presenter on Monday, March 4th 1946 was Robert Macdermot. The first record played was 'Greensleeves' by the Hall Symphony Orchestra. Early presenters on a fortnightly rota were Neal Arden, Roy Rich, Franklyn Engleman and Brian Mickey. Guest presenters included Sam Costa, Kenneth Horne and Bob Danvers Walker.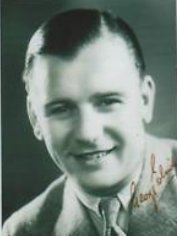 Entertainer and regular compere George Elrick (left) heard singing here was voted top D.J. seven times. The famous theme tune was In a Party Mood by The West End Celebrity Orchestra. Three of the most popular requested discs according to the BBC were 1. Mona Lisa (Nat King Cole) 2. Stranger In Paradise (Tony Bennett) 3. Welcome To My World (Jim Reeves). The show was renamed Family Choice with the launch of Radio 2 in 1967.
Kenneth Horne read listeners request during April 1964. It was during the war that, teamed with Richard Murdoch, Much Binding in the Marsh, took shape. During the late fifties and sixties, Ken wrote and took part in Beyond Our Ken and Round The Horne as well as guest presenting Housewives' Choice.
Blackpool_Night (1948-1963) during summer months this programme showcased talent appearing at the famous British seaside resort. This audio clip features Morecambe and Wise.
Record Roundabout (1948-1977) Bandleader Jack Jackson's shows included recorded comedy clips interspersed with music of the day. He went on to broadcast on Radio 2 from 1971 to 1977. Jackson's lightning cutting between comedy extracts and music has been described as an inspiration to succeeding generations of disc jockeys like Kenny Everett who have used advanced production techniques to 'mix' music, speech and sound.
Billy Cotton
The Billy Cotton Band Show (1949-1968) was another popular Sunday afternoon radio programme. Band leader Billy Cotton started each show with the cry Wakey, Wakey! , followed by the band s signature tune Somebody Stole My Gal . Alan Breeze sang (and sometimes slaughtered) the hits of the day.
Chapel In The Valley (1949-1969) A half-hour religious music programme not all it seemed. Introduced by Sandy McPherson, the chapel was not in a valley but in Hoxton, North London where the BBC theatre organ was kept. Organist "Mr Drewett" was actually Charles Smart, and vocalist "Mr Edwards" was really English bass Harvey Alan.
Uncle Mac
Children's Favourites (1954-1967) This Saturday morning show played record requests from children of all ages. The signature tune was Puffin' Billy by Edward White. Regular presenters included Eductating Archie's Peter Brough in the 1950's and Children's Hour presenter 'Uncle Mac' (Derek McCulloch). A popular record request was Trains by Reginald Gardiner. The show was renamed Junior Choice with the launch of Radio 2 in 1967.
Sing_It_Again (1949-1971) 'At the rate of a song a minute, a group of top-line singers combines to bring a pattern of non-stop music, featuring tunes of yesterday and today that, it is hoped, will please all tastes.' This sing along show was heard on Sunday afternoons and included popular songs re-sung by Clinton Ford, Vince Hill, Rose Brennan, The Ronnie Price Quartet and many other session singers.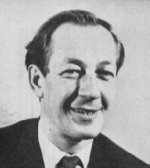 Saturday Club (1958-1969) followed on from the success of the short-lived 1957 series Skiffle Club. Brian Matthew was the compere of this two hour 'experimental teenage music show'. He chatted with guest artistes in the studio and introduced their live performances often before they had established themselves as recording stars. Almost every pop star in Britain appeared on the programme which was always broadcast live. Keith Skues took over on the first Radio 1 show 1 in 1967 and although the show completed 500 editions on 4 May 1968 it was axed on 18 January 1969.
Sing Something Simple (1959 - 2001) featured the most popular melodies of the last 70 years, performed by The Cliff Adams Singers (four female, 12 male), accompanied by Jack Emblow and the music director. The show was broadcast on Sunday evenings and earned itself the title of longest-running continuous music programme in the world. By 1979 Sing Something Simple had already celebrated its 1000th programme. With it's close in December 2001, there had been over 2,100 shows broadcast on BBC Radio.
Easy Beat (1959-1967) This Sunday mid-morning pop music show was launched in 1959. Originally produced and compered by Brian Matthew, the show regularly featured Kenny Ball s Jazzmen, the Johnny Howard Band, Laura Lee, Tony Steven, Danny Street, guest artistes and BBC top tunes. It was later Introduced by Keith Fordyce. When Radio 1 was launched in 1967, the show remained for a few months under the new title Happening Sunday.
Enchanted_Evenings (1964/5) A Sunday afternoon hour of music from stage and screen introduced by Bruce Trent.
Pick of the Pops (1955-1972) This famous name chart show began as a pop record segment during late Saturday night music shows. First presenter was Franklin Englemann, closely followed by Alan Dell, David Jacobs, Don Moss. In 1962 a Top Ten was introduced when the show was moved to Sunday afternoons with Alan Freeman (pictured left). The programme was renamed Top 20 when Alan left the show in 1972, but the original name was resurrected in 1989 when he recalled charts gone by on Radio 2.
Semprini Serenade (1957-1982) `Old ones, new ones, loved ones, neglected ones' - Alberto Semprini's opening lines to his weekday evening programme which ran for 25 years. Albert Semprini was of Italian descent born in Bath. He studied both Piano and Cello and was to graduate from the Verdi Conservatory in Milan in 1928 as an expert concert pianist composer and conductor. In 1957 the Semprini Serenade series was aired with arrangements of old and new songs, light classics and themes from films and shows were exceedingly popular. The show was well received and well loved by his audience it ran for 25 years and over 700 programmes.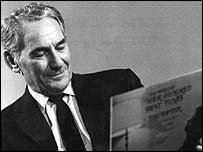 Your Hundred Best Tunes (1959-2007) Sunday evening classic music show broadcast on Sunday evenings. The show was created and presented by Alan Keith until his death in 2003.
Friday Night is Music Night (1952- date) Friday night has, in fact, been music night for half a century, first of all on the Light Programme and then on BBC Radio 2, making it the world's longest-running 'live music' programme on radio. It features the famously versatile BBC Concert Orchestra, and is frequently broadcast from theatres and concert halls throughout the UK. The BBC Concert Orchestra, which was formed in 1952, has a wide and flexible repertoire, ranging from classical works and grand opera to light music and popular songs. Its Principal Conductors over the years have been Gilbert Vinter, Sir Charles Mackerras, Vilem Tausky, Marcus Dods, Ashley Lawrence and, since 1989, Barry Wordsworth.

Workers Playtime (1957-1964) was a live morale-boosting music, comedy and variety show. The show was broadcast weekday lunchtimes from different factory canteens and ran for 23 years. Originally broadcast on the Home Service in 1941, it transferred to the Light in 1957. The producer was Bill Gates who would finish each programme by wishing "good luck to all workers!."
Not forgetting...
Glamorous Nights, Night Ride presented by John Curle, Album Time with Brian Matthew, Ballroom music requests with Victor Sylvester and his Orchestra, Make Way for Music from Manchester with Roger Moffatt and the Northern Dance Orchestra.
Links to other Light Programme shows heard can be found below.