Jingles: 1960's ●1970's ● 1980's ● 1990's
Radio 2 Theme Tunes
Enchanted_Evenings - BBC Radio Orchestra. On the BBC Light Programme, an hour of music from stage and screen introduced by Bruce Trent. This clip is from 1965.
Breakfast Special theme - C'mon In by The European Sound Stage Orchestra
Housewives Choice was renamed Family Choice when Radio 2 launched in 1967, and was heard on both Radio's 1 and 2, however the format remained the same. A theme tune was written;
A Swinging Choice by Brian Fahey and Orchestra.
Sadly by 1970 this very popular show was axed entirely, with Radio's 1 and 2 going their separate ways; Johnnie Walker on Radio 1 (later replaced by Jimmy Young) and Pete Murray on 2 inviting listeners to his 'Open House'.
Jimmy Young Prog - Town Talk by Ken Woodman and his Piccadilly Brass
Pete Murray Show - Open House by Brian Fahey(1969)

Sing Something Simple - Cliff Adams Singers
Cliff Adams was born in 1923 and was a former singer with the Stargazers, a popular vocal group on BBC radio throughout the 1950s with six top 20 hits. The Cliff Adams singers were formed in 1954 and this series was heard on Sunday evenings on Radio 2 until 2001 after a mammoth run of 42 years. The group re sang well-known melodies from decades gone by. Cliff's also composed for TV commercials including Fry s Turkish Delight, Cadbury s Milk Tray and Cadbury s Smash. Cliff arranged and performed on Sing Something Simple until his death in 2001.
Family Favourites - With a Song in my Heart
Original 1941 Version by Andre Kostelanetz & his Orchestra.
*1967 version (from Radio 2 Launch) by Brian Fahey & his Orchestra.
This long running and very popular Sunday lunchtime request show was carried by Radio 1 as well as Radio 2 until April 8th 1973. Family Favourites most famous and regular presenters were Jean Metcalfe (b.1923- d.2000) and Cliff Michelmore. Sarah Kennedy also presented during the 1970's. The show was transmitted on the Light Programme/BBC Radio 2 between 1945 and 1984 as a long-distance record request show linking UK soldiers posted overseas with their loved ones in Great Britain.
* John Dunn Start of show Imogene by Les Reed
Show Close - Central Park Parade by Syd Dale (comp. Dale) start of show
* Ray Moore - Here, There and Everywhere by Mike Leander
* Two's Best (70's) - Carnaby Chick; composed by Don Lusher
* Sport on Two - Number One by The Delle Haensch Band (comp. Haench/Conzelmann) Note- Still used by BBC Radio 5 Live.
* David Jacobs show- I Love You, Samantha by The Pete Moore Orchestra (comp. Porter)
* NEW Waggoner's Walk (start and finish tunes)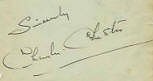 * Charlie Chester's Sunday Soapbox - Music to Drive By by Oscar Brandenburg Orchestra. Born in 1914 in Eastbourne, 'Cheerful Charlie' Chester won 82 talent competitions before turning professional as a teenager. His sixty year career was spent primarily as a comedy radio star. In 1969 started his long-running radio programme Sunday Soapbox broadcast from Manchester reflected his concern for less fortunate members of society. Charlie's show was broadcast regularly on Sunday afternoons until 1996. Charlie suffered a severe stroke and died in 1997.
* Late Night Extra - Late Night Extra by Brian Fahey and Orchestra (1968) This melody was a top ten hit in the UK.
* I Hear Sounds written by Ron Roker and performed by Sounds Bob Rogers. He and his band had a late night spot on Radio 2 during the late 1960's with a show called 'I Hear Sounds' which featured lots of good songs, live music and records selected by guests. Ron Roker has been described as one of the most prolific and successful pop songwriters of the 1970s, responsible for amongst others The Fortunes' Storm in a Teacup', Tina Charles' Love Bug and Dance Little Lady Dance, and the much-loved hit theme tune to The Adventures of Rupert Bear.
* Tony Brandon's Radio 2 Show Happy Music by James Last
* Early Show (70's) - Eye Catcher
* Hubert Gregg Time Was by Nelson Riddle Amongst his many accomplishments, Hubert wrote more than a hundred songs. One of them - Maybe It's Because I'm A Londoner - became a major hit in 1947 and a standard folk song in London. He presented his show Thanks For The Memory on Radio 2 from 1972 until just a month before his death in 2004.
* Gloria Hunniford Taste of_Honey by Herb Alpert
* Terry Wogan - Drum Diddley by The Carnaby Street Pop Orchestra & Choir (Conductor Keith Mansfield) This track is available on a CD album entitled THE LONDON THEME on Recur Records ECD 7302.
* Steve Wright R2 Show theme 2004 (title Unknown)
* Steve Wright R2 Closing Theme - Witchita Lineman Glen Campbell
Ian Garfield wrote to Radio Rewind:

"Hi I thought you may like to know some information on a radio show. I have been trying for ages to find the music that Ronnie Hilton had as his signature tune to sounds of the '50s, broadcast on Saturday afternoons in the '90s. It's called Show Me The Way To Go Home performed by Billy May." Ian