Born in Surrey 1943, Tony Blackburn's family moved to Dorset in 1948. Educated at a public school, Tony went on to study at Bournemouth College, receiving a Business Diploma. From an early age his ambition was to be a singer and disc jockey.
Whilst in Bournemouth, he was a resident singer for evening shows at the Pavilion, later singing with the Johnnie Howard Band.
PIRATE DAYS
He successfully auditioned for Radio Caroline South in 1964, however the different presentation style where his happy, teenage personality was projected to the listener was not initially welcomed by the station manager, although listeners approved. In 1965, he declined a job offer with Radio London who wanted him to change his name to 'Mark Roman !'.
He released 3 records with Fontana records in 1965/66. He has written 200 songs, but only had one published. In 1966, he resigned from Caroline due ill health, but shortly after commenced with Radio London, presenting the breakfast show under his own name.
BBC DAYS
Tony recalls...."when I was at Radio Caroline I met Harold Davison who became my manager. He said there was a new station called Radio 1 and they were interested that I work for them. He said you come with my agency and I'll make you the top DJ in three months. I thought about it for about two seconds and he did it in two months. I got the job and went to Broadcasting House. I remember a lovely guy called Mark White was the executive producer. They sort of auditioned me first on the Light Programme on a lunchtime 3/4 hour show taking over from Judith Chalmers and Paddy Feaney. It was the flower power era and when we opened up Radio 1 it was very strange because all the BBC producers and staff were in flowery gear power while we from the Pirate ships were in suits!"
Tony began work with the BBC Light Programme in August 1967, presenting 'Midday Spin' (see clips below). Tony knew this was an audition for the yet to be launched Radio 1. When Radio 1 started the next month, Tony was the first Disc Jockey on the new station. He was helped by Arnold the dog, who he found on a BBC sound effects tape. He has additionally been heard on RTL Radio Luxembourg.
The Breakfast Show included a 'School Salute', from 1969, a feature where if your school was mentioned you won Radio 1 goodies.
He released 'So much Love' early 1968 and an album, 'Tony Blackburn Sings'. He also had his own television show in that year, 'Time for Blackburn' which was seen across the UK.
Tony moved from Breakfast to weekday mid-mornings from June 1973, where he featured 'The Golden Hour'. This feature was later carried by Simon Bates.
Moving again in Autumn 1977 to weekday afternoons for two years, it was during this period Tony went through a divorce from his actress wife Tessa Wyatt (later of Thames comedy series Robin's Nest). He found the emotional loss hard to handle and was prescribed medication in order to help. He made the public aware of his broken heart and repeatedly dedicated weepies such as If You Leave Me Now by Chicago to Tessa on his Radio 1 afternoon show. On his last daily Radio 1 show in August 1980 Tony thanked Phil Swern (ex producer of A & M records) for 'help through the toughest times'.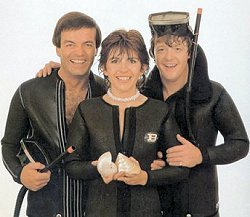 Tony pictured with former Radio 1 presenters
Maggie Philbin and Keith Chegwin
(1983 publicity shot)
'Junior Choice' followed from 1980, featuring songs for younger children, and the UK Sunday Top 40 chart countdown for 2 years. He remained with Radio One until 1984, moving to BBC Radio London, where he introduced the first (legal) soul music radio show in the UK. Here he hosted a morning show mixing music with listener phone-ins. The shows are remembered for Tony's use of light-hearted innuendo and banter with female callers.
Tony's musical passion is soul music, and he is famous for his light humoured 'corny' jokes and upbeat presentation.
Tony is married to Debbie and they have a young daughter, Victoria.
KING OF THE JUNGLE
In September 2002, Tony took part and won the British Television series 'I'm a Celebrity Get Me Out of Here'. Four male
From Daily Mail Front Page 09.09.02.
and four female media personalities were placed in a rainforest in North Queensland, Australia and were set daily 'bushwacker trials' to win food. Tony had to walk along a large 'spiders web' and endure a shower of maggots! He also collected many logs for the fire. Tony was voted the winner by viewers and, along with the other contestants, raised thousands of Pounds for his chosen charity.
NEW King of Jungle Celebrity Mix MP3 3.mins
(Mix by Danny Pike of Southern FM)
1988 - 2002 CAPITAL
From 1988 to 2002 Tony could be heard around the UK on local 'Capital Gold' stations in the drive-time slot, Monday to Friday.
2002 - 2006 REAL RADIO
Tony left Capital Gold at the end of 2002 after 15 years to present the 'Real Party Night' on Real Radio (South Wales, Central Scotland & Yorkshire) consisting of 80's soul music. The show was broadcast 6pm-10pm every Saturday until 2006.
2003 -2004 CLASSIC GOLD TRIPLE CHART SHOW
On Classic Gold Digital, the Saturday morning 'Triple Decade Chart Show', featuring chart music from the 60's, 70's and 80's in a 10am-2pm slot. and on Classic Gold Northamptonshire, Tony Blackburn's Real Party Night; 6 hours of great party music 6pm-12am.
2003 -2004 JAZZ FM
For 12 months from March 2003 Tony presented a weeknightly programme on the London & Northwest JazzFM 'Real Soul' show featured the best of classic and contemporary soul, jazz and R & B. 10pm - 12am slot.
2003 - 2007 BREAKFAST ON CLASSIC GOLD
The Weekday Sensational Breakfast show for Classic Gold Digital from 6am - 9am Monday 31st March 2003 with ex-Hereward FM & Evening Telegraph columnist Laura Pittson. until 3rd August 2007.
2004 RADIO LONDON 94.9 RETURN
Tony came back to BBC Radio London in March 2004 to present a regular Monday night and Saturday lunchtime Soul Show. The broadcast marked a return for Tony to the BBC after an absence of 16 years. (Please find audio clips of his first show at the base of this page).