Tommy Vance
Last Interview and Personal Tributes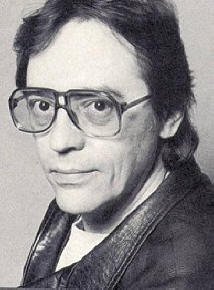 Born in Oxford in 1941, Tommy's real name was Richard Hope-Weston; he adopted the 'stage name' Tommy Vance since the only name jingle package available at KHJ Los Angeles was for a presenter who never took the job, called 'Tommy Vance'. He took this DJ role in the early 1960's, and kept the name!
EARLY YEARS
Tommy was expelled from school due to non-attendance and ran away to sea aged 16. His first employment was with the Merchant Navy in the catering division. With show business in his veins (Tommy's mother was a singer and dancer), he enrolled as a student at a Northern Ireland college, to become an actor/stage hand. Unhappy with his salary he moved to the USA to work in radio.
Tommy has said he was the first English D.J. to broadcast on any USA radio station, his first being on station KOL, where he was known as Rick West. He had to leave America because of the Vietnam war. He suffered a huge drop in pay from 15,000 dollars a year to 18 pounds and 10s.
Joining Radio Caroline in 1966 for three months, he moved briefly to RTL Radio Luxembourg but went back to Caroline, then jumped ship to Radio London just a few weeks before it finally shut down in 1967 due to a new Government licensing law.
At Radio 1 in 1968, his first show was the cutting edge new music show Top Gear with John Peel, however when the show was shortened after a few months, Tommy was dropped. Briefly moving to European Radio, following some TV work, Tommy was heard on Capital Radio from 1973 until 1979.
BACK AT THE BEEB
Moving back to Radio 1 in 1978, this time for a much longer period of 15 years, Tommy presented the legendary Friday Rock Show until March 1993. Here he highlighted Heavy Rock bands from around the world, both old and new. At the same time he broadcast a daily drivetime slot on the BBC's London music station, GLR.
Tommy also fronted the Radio 1 Sunday Top 40 from 1982 - 1984. He regularly recorded special shows for BFBS broadcast around the world. He interviewed many thousands of personalities on radio, including Prince Charles.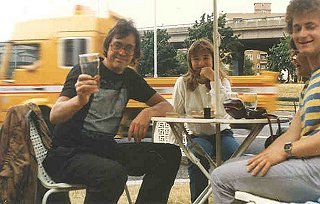 1984 Photograph kindly sent by Juergen Boernig from the Netherlands. "I met Tommy Vance in BFBS London when he did the Top 20 show. He took us to lunch after the recording".
AFTER AUNTY
Following Radio 1 and GLR Tommy moved to Virgin Radio from its 1993 launch.
He is well known for his deep 'gravelly' voice which has been put to good use on numerous TV and radio advertisements over the last three decades, many produced by his own Silk Sounds studio.
Tommy's enthusiasm, love and knowledge for music and talented artistes of all genres shone through with every broadcast he made throughout his career.
Tommy was seen and heard on satellite channel VH1 at midnight on Fridays hosting, 'The Friday Rock Show' which was sadly axed March 2002. From 2004, he was heard on London's DAB station Virgin Radio Classic Rock.
Tommy Vance passed away on Sunday 6th March 2005 following a stroke.
His funeral was held at a packed Golders Green, London crematorium on 15th March. Moving speeches were heard from Ex-BBC colleagues Richard Skinner, Tony Wilson (Tommy's Rock Show producer), Humphrey Walwyn (BBC World Service) and personal friend Softly. Actress Diane Weston, former partner of Tommy, read John Masefield's poem Sea Fever. Music played at Tommy's funeral included George Martin's Theme 1 (former Radio 1 theme) as well as music from Pink Floyd and Neil Young. Tommy is survived by his ex-wife Stella, a son and a daughter.
Last Interview and Personal Tributes
RADIO REWIND AUDIO CLIPS

Please check Audio Help Page in case of difficulty downloading. You will need a username and password. Please register. Then you will be able to login.

Audio BBC / BFBS