Midday, Saturday July 13th 1985; Status Quo played the opening notes of a concert that many thought would never take place - could never take place.
16 hours later, after Phil Collins' madcap transatlantic dash on Concorde, after the incredible duet between Mick Jagger and Tina Turner, millions of people all over the world were left with their own special memories of the greatest concert the world has ever seen, and with the knowledge that it had all been for a purpose.
Radio 1 was there to broadcast the whole of the Wembley concert on radio. It also telecast live around the world.
At 5PM the Jukebox became truly Global when a packed JFK Stadium in Philadelphia joined in with their concert acts.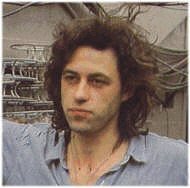 Britain contributed over 1 million to the global total of 30m. On stage were David Bowie, Eric Clapton, Madonna, Paul McCartney, Sting, The Who, U2, Neil Young, and many more. The brainchild of Bob Geldof and representing the efforts of countless musicians and Radio 1 technicians, Live Aid was a genuine and inspiring effort to help the victims of an overwhelming calamity.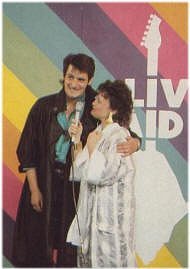 Janice Long interviews Tony Hadley
from Spandau Ballet