Originally named Leslie Ronald Young, Jimmy was born 21 September 1923 in Cinderford, Gloucestershire. The son of a miner, he was an excellent boxer and rugby player, but turned down an offer of a professional career with top rugby league club, Wigan. Always keen on music, he was taught to play the piano by his mother, and received professional voice training. He worked as a baker and an electrician before joining the Royal Air Force in 1939. After demobilization he intended training as a teacher, but was spotted, singing at a sports club, by BBC producer George Innes, and made his first broadcast two weeks later, subsequently touring the UK variety circuit.
Jimmy joined the BBC in August 1949, after being offered a job by BBC producer George Inns, whilst playing piano at a swimming club. By the time he was 24, he had made 150 broadcasts!
Margaret Thatcher, the former UK Prime Minister, stated publicly that Jimmy Young was her favourite broadcaster. His show included Raymondo (speeded voice of Production Assistant Ray Harvey) who would ask "what's the recipe today, Jim '' He included regular guests such as food expert Tony di Angelo, and solicitor Bill Thomas aka 'The Legal Beagle' answering listeners legal problems.
In 1955 Young became the first UK artist to top the NME chart with successive releases. The first, Unchained Melody, made the top spot in spite of intense competition from Al Hibbler, Les Baxter, and Liberace. The second, the title song from the movie, The Man From Laramie, and another 1955 hit, Someone On My Mind, clinched Young's position as the UK's second biggest selling artist of the year - after Ruby Murray. There followed further '50s hits, including Chain Gang, The Wayward Wind, Rich Man Poor Man, More and Round And Round, and Unchained Melody.

In 1960 he introduced BBC Light Programme's popular record request programme, 'Housewives' Choice', for two weeks. It was the start of a new career which has lasted more than 30 years, initially as a conventional disc jockey and compere, and then, from the launch of Radio 1 in 1967, as host of his own daily morning radio show, mixing records with consumer information, discussions on current affairs, and interviews with figures in the public eye, including Prime Ministers. His show was Produced by Doreen Davies and broadcast on Radio 1 and 2 at the same time, until 1973, when on July 2nd he moved exclusively on Radio 2. For his work on that programme, he was awarded the OBE, and later, the CBE. In 1992, for The Jimmy Young Story, a radio celebration of the silver anniversary of his talk show, Young was interviewed by another distinguished broadcaster, David Frost. Jimmy Young has interviewed every British Prime Minister since Harold Wilson, and broadcast from many foreign locations, including Moscow and Hong Kong, and continued to be a favourite broadcaster on BBC Radio 2 into his eighties.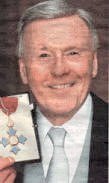 There was speculation in 2001 about his career at the BBC after Radio 5 Live's Nicky Campbell claimed he had been approached to take over the Radio 2 lunchtime slot. Listeners battled a public campaign and MP's even put down a commons motion to keep him 'on the air'.
In December 2001 he received a knighthood (picture) from the Queen. In that year his show attracted an average 5 million listeners each weekday.
It was reported in November 2002 that Jimmy had changed his mind about presenting a new weekend show in 2003 after stepping down as host of Radio 2's lunchtime show after nearly 30 years. BBC bosses had wanted a younger presenter in the lunchtime slot and the decision to move him to the weekend in 2003 New Year allowed him to keep his large audience. Sir Jimmy said he had decided against the move and would leave the BBC where he made his first broadcast in 1949. Sir Jimmy, who was off the air from Nov 2002 until Monday 9th December 2002 recovering from a hip operation, said: "Having presented the daily JY Prog for nearly 30 years, I do not feel that I could do justice to a weekly shortened version." Jimmy returned to Radio 2 for the last time in December 2002.
Jimmy announced live on-air during his last show on 20th December 2002 "Just so that we're all singing from the same hymn book, it was not my idea to go - I didn't want to leave you at all and I know from your messages that you don't want me to go either," he said. "Nothing to do with me guv..." "...the song's fading away and indeed so am I...." "It's the last programme - it's not what I want but that's what's been decreed so that's what we have to do...". "I'm looking forward to hearing you and seeing you at the theatre. Thank you very, very, much for the last 30 years - I've loved it all..... God bless, take care, and for the very last time I fear, bye for now."
(Do you think he was bitter )
From January 2003, Jeremy Vine took over Jimmy's former weekday Radio 2 slot 12-2pm.
Death
Sir Jimmy Young died peacefully at his home with his wife by his side on 7th November 2016. He was 95. Sir Jimmy's former Radio 2 colleague Ken Bruce paid tribute: "So very sad to hear about the death of my old friend Sir Jimmy Young. One of the most able broadcasters I ever worked with." (BBC)
RADIO REWIND AUDIO CLIPS

Please check Audio Help Page in case of difficulty downloading. You will need a username and password. Please register. Then you will be able to login.

Audio BBC
Show theme Tune Town Talk by Ken Woodman
Jimmy's Radio 1 show (1968) (mp3file)
And More (1968) (64kbps mp3)
Talking about the days schedule(1970)
Radio 2 show clip (1989) 1 min
End of last Radio 2 show 20.12.02 (48kbps mp3)