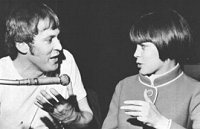 David Interviews French singer Mireille Mathieu on his Radio 1 show 1968
At the microphone 1968
"BBC's agreements make it impossible to broadcast hit records for ninety minutes every Sunday morning. So the onus of ' covering the hit parade falls squarely on the shoulders of Johnny Howard and his team of singers. Versatility is the keynote here, with a repertoire which has to range from Jim Reeves to the Rolling Stones. The results speak for themselves. "
(David Symonds in Radio Times
issue 7 May 1967)
Born in Oxford, David Symonds spent a year at University but left prior to taking his degree. Moving to New Zealand, David started a career as an actor, but began working for NZBC news reading and general announcing, on TV and radio.
Breakfast Special
He returned to England in 1965, working firstly for the BBC Home Service as an announcer, later for the Light Programme. During 1966 and 1967 David was a regular presenter of the early morning three hour Breakfast Special show aired on the Light Programme. From January 1967 until the launch of Radio 1, David introduced the music on the long running 90 minute BBC Light show 'Easy Beat' where Johnny Howard and his team of singers covered the latest hits. Here he gained the moniker 'Golden Boy' and 'First of Many' due to his casual off the cuff quips, raving introduction to records and pirate style slogans such as 'your corporation station'. His style was originally cause for concern with BBC management but, due to listeners positive letters, he was able to continue. During this time, he recorded shows for broadcast on RTL Radio Luxembourg.
Radio 1
From the launch of Radio 1, David Symonds presented his own early evening weekday show;
"Radio's Number One Pop Party with discs and guests at 6.15: The Bamboozler"
The show included interviews with major pop artistes of the time. From May 1969 he presented a 4pm one hour show "WHAT'S NEW.... David Symonds with the week's ' Newly Pressed ' pop records" as well as the occasional Radio 1 Club. From May 1970 he fronted several editions of Radio 1's night time show "Sounds of the Seventies" featuring top progressive rock acts.
Naked News
It was reported that Dave ran into trouble, and was sacked by Radio 1; for reading the national news......naked and under the influence!
In 1974 his was the first voice heard on the UK's first (legal) commercial radio station, Capital Radio, where he presented the breakfast show for four years.
He was heard on Radio 2 when he fronted the 4pm - 6pm drive time easy listening disc show 'Much More Music' from July 1979 until January 1982.
From 1985 to 1988 David was one of the regular presenters of the News on Radio 4.
On Air
He then moved to Capital Gold and during 1995 Dave emigrated to Cyprus.
From 2010 - 2013 Dave ran his own radio station! 91.4 Coast FM in Limassol, Cyprus. In 2015 he launched an internet radio station from SW France; The Roolz - "Great music for grown ups who are young at heart."
RADIO REWIND AUDIO CLIPS

Please check Audio Help Page in case of difficulty downloading. You will need a username and password. Please register. Then you will be able to login.

Audio c BBC
Much More Music on Radio 2 (1980)
EDITED 240316