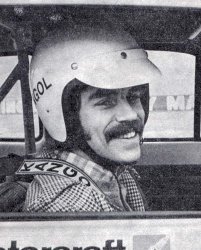 Dav taking part in a Radio 1 Diy at Brands Hatch 1973.
" I came 5th in my first Brands Hatch Radio 1 race [in I guess 72], 2nd in the next one [couldn't catch Noel Edmonds, he'd trained seriously as he lived near by] and got over-confident in the third one, crashed and came next to last."
David Simmons grew up in Southend-on-Sea, Essex. He studied Law at London University and later, Human Sciences at Oxford.
He was first heard in the UK on the pirate easy-listening station 390 where he produced and appeared in commercials. After the pirates closed, David had a stint in West Africa, then moved to Switzerland as a radio reporter and producer based in Bern. While abroad he read about the BBC's plans for a local station in London, applied, and got a job of producer-presenter at the new BBC Radio London, starting there in mid-1970 on the same day as Robbie Vincent.
In January 1972 Dave took over the Saturday afternoon R&B show on Radio 1 from Mike Raven. David said in a 1974 interview that it was his varied training in Local Radio that helped him acquire the Radio 1 slot. He got interested in R&B as a schoolboy he was at school with Procul Harums Gary Brooker, and Robin Trower lived a few doors away - and played that and blues while on the air in Switzerland. His Radio 1 show featured more soul and less blues than Mike a 70/30 split.
A unique feature of the show was a phone call to a different black music station in the US every week. The DJ in Washington DC, Chicago, Miami, Los Angeles or wherever would run down his current Top 10 and David would play the records in from London. He later went across America visiting the stations, and staying with the djs, like Mad Bob McKee in Atlanta, Georgia.
"This was music before its time" recalls David. "I'd play Bill Withers, Stevie Wonder, James Brown, Billy Preston, Aretha Franklin, the odd salsa record I'd bring from New York " but it was regarded by the BBC as a "specialist" show. Black music was not massively popular in the UK in the early 70s " and the middle classes had never even heard of it. Given the choice, the public went for Slade or the Bay City Rollers."
The Radio 1 show was in addition to his local radio work: in August 1972, David launched the first daily telephone talk show in the UK: Call In weekdays lunchtime on BBC Radio London.
He went on to present Soul 77 on BBC Radio London, as well as writing and presenting BBC Radio 4's Science Now, and making documentaries on Bob Marley, and the African roots of American music.
Fluent in French, Spanish and German, David moved in the 80s into management, and spent 20 years as an executive with the US-owned Worldwide Television News [WTN], and its successor, Associated Press Television News.
But he has kept his hand in with radio, principally on the British forces network, BFBS, presenting Rockabilly Country from 1981-83; and since then, a weekly 50's and 60's soul and rock"n"roll programme Rockola, which is now BFBSs longest-running show www.rockola.net
David currently (2004) lives with his family in north London.
RADIO REWIND AUDIO CLIPS

Please check Audio Help Page in case of difficulty downloading. You will need a username and password. Please register. Then you will be able to login.

Audio c BBC
Saturday Show 13.10.73 with BB "Bird Brain" Davis segment