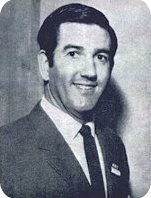 Born in Newcastle, New South Wales, Barry Alldis won a 5-year scholarship for the trumpet at Sydney University. Barry, a talented pianist, decided to join 2Tm in Tamworth for radio experience, where he became an announcer at 18. He moved to become a disc jockey and compere at 4BH Brisbane after some years.
Having worked with British and American stars, Barry decided to move to London in 1955, in order to gain the opportunity of working on TV or radio here. However, he was unable to find such work for over a year, instead becoming a van driver, doorman, fireman amongst other jobs.
In 1956, whilst playing piano at a Knightsbridge club, he met Dick Norton, the German presenter on the BBC radio show 'Family Favourites.' Through contacts, Barry was offered a job as presenter in Radio Luxembourg's British Department. He started as compere of 'The Top Twenty Show' in December 1956 and continued until 1964. He also became head of the Department. This show was extremely popular throughout the continent and Scandinavia, where Barry Alldis attracted 'star status'. One of his shows was interrupted when a local 'Beauty Queen' presented him with a silver Billion Disc, in honour of his work for the world's recording artists over ten years, as awarded by a Norway's most popular youth magazine, 'Det Nye'. He married a Luxembourg lady, Fernande Stoffels.
Barry has written over 100 songs with many performed by the BBC Radio Orchestra.
He moved from Luxembourg to London in 1966, to become a freelance compere and D.J. His three-month visa ran out when he was in the middle of a "Housewive's Choice" contract with the BBC Light Programme. With the help of the BBC, his local MP and even the Australian Pm, he was allowed to stay in the UK. Later, Barry presented "Juke Box Jury", "Monday, Monday" "Newly Pressed", "Swingalong" and "Late Night Extra".
He returned to RTL Radio Luxembourg in 1975, where he continued to be a highly popular presenter until he sadly passed away in 1982, aged 52.
RADIO REWIND AUDIO CLIP

Please check Audio Help Page in case of difficulty downloading. You will need a username and password. Please register. Then you will be able to login.

Audio c RTL/BBC
Barry Alldis on RTL Radio Luxembourg 1962
music Lovin' Barry Alldis on 247 Radio 1 32kbps version