David in 1967
David was educated at Brockenhurst Grammar School in Hampshire. In 1958, a year after leaving school, he joined the BBC finance division. A short spell in the recorded programmes library was closely followed in 1963 by four years as Studio Manager.
It was in this role that he became involved in Light Programme pop shows such as Saturday Club and Midday Spin when David was given the opportunity to present a show as a DJ on Radio 1 following the historic 1967 launch. He fronted the Thursday edition of Midday Spin for three months, a non-stop pop programme heard also over on Radio 2.
He left the BBC for a freelance career a year later, but maintained links with Radio 1 by devising the questions for Johnny Walker's Pop the Question feature, which he subsequently turned into a book. He additionally compiled an official account of the station's first decade, Happy Birthday Radio 1.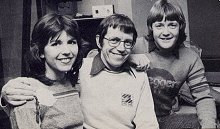 Maggie Philbin, David and Keith Chegwin pictured in the studio 1980
For six years from 1976 David was the voice in the Radio 1 Sunday Morning Playground, a show for younger listeners which was broadcast prior to the days edition of Junior Choice. In 1979 the show was moved to Saturday 7am and David was ably assisted by both Maggie Philbin and roving reporter Keith Chegwin. The show was down on the farm, up in the air, spotting headlines, talking to pop stars, reading listeners letters and arranging competitions.
David has written a book about animated films, The Great Cartoon Parade. Amongst other restoration hobbies, he is an active member in the Bluebell Railway Preservation Society, and lives in a cottage next to the East Sussex line.