Radio 2 History
1990-99
New presenters during this decade included Steve Wright, Bob Harris, Alan Freeman, Paul Gambaccini, Debbie Thrower, Richard Allinson, Mark Lamarr, Jools Holland and Michael Parkinson.
In February 1990 the Greenwich Time Signal was broadcast from Greenwich for the last time. From then on the BBC generated "The Pips" from Broadcasting House.
Medium wave transmissions on 693 an 909 kHz ceased in August 1990 to make way for the BBC's new station, Radio 5, which took the sports output from Radio 2 medium wave.
By March of 1990 Radio 2 didn't have to provide the FM frequency any more to Radio 1 at weekends and weeknights.
1990 saw the final edition of Brian Matthew s Round Midnight. He returned with Sounds of the Sixties. Ken Bruce presented his first nightly late night show and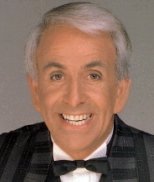 Don Maclean - 14 years on 2
Don Maclean (left) began his Good Morning Sunday show. A new series on military bands began, On Parade, presented by Brian Johnston. Roger Royle left Good Morning Sunday and later presented Sunday Half Hour. New programmes included Sheridan Morley with his Arts Programme. In 1990, Nick Barraclough presented New Country.
1991 and Ken Bruce moved to 6.00-7.30am, David Jacobs' lunchtime show ended, Mike Harding And Friends with George Melly, Maddy Prior and Ralph McTell was heard. 1992 and Brian Hayes was heard presenting the breakfast show (till Dec '92) and Ken Bruce the mid-morning show, as Judith Chalmers departed. Ed Stewart began a weekday mid-afternoon slot. Melodies For You was now presented by David Jacobs.
Three new national stations came on the scene during the 1990's with Classic FM in 1992, Virgin Radio in 1993 and Talk Radio in 1995. Radio 2 campaigns in the decade included Ken Bruce launching Caring for Carers in 1990 and 1998's Cancer and You.
In 1993 Sarah Kennedy began presenting her Early Show; Wake Up To Wogan returned. In 1994 Mo Dutta joined Radio 2. Debbie Thrower began a weekday afternoon show in 1995 when she replaced Gloria Hunniford. In 1995 Malcolm Laycock took over Dance Band Days and Big Bands with his Sunday night at 10 show.
Many changes took place in 1996 when Jim Moir became controller of Radio 2. Michael Parkinson's Sunday Supplement and Michael Aspel left Radio 2. Steve Wright joined with his Saturday show and Sunday Love Songs. Hayes Over Britain was aired on Tuesday nights, 7.00 - 8.30pm. Judi Spiers replaced Martin Kelner (Saturdays, mornings and then moved to afternoons). On Sunday evenings Frank Topping and then
Pam Ayres - Sundays
Pam Ayres replaced Charlie Chester on Sundays. Roger Daltry starred in the Radio 2 production of Jesus Christ Superstar. John Dunn broadcast from Antartica.
1997 and Richard Allinson joined Radio 2, replacing the Jamesons. Pick Of The Pops returned with Alan Freeman on the weekend, Bob Harris joined Radio 2 with his late show from 11pm - 1am. The first series of Monkhouse Archive, a programme of BBC comedy clips hosted by Bob Monkhouse was aired Saturdays at 1.00pm.
John Dunn retired from Radio 2 after 30 years service in 1998, and Stuart Maconie joined the station. Paul Gambaccini began hosting America's Greatest Hits, 5.30 - 7.00pm. In April Judi Spiers presented her final Saturday afternoon show. Drivetime with Johnnie Walker, Mon -Thurs with Des Lynam on Fridays. Johnnie Walker had to leave for about a year during which Richard Allinson took the Drivetime slot, Lyn Parsons took Richard's show (10.30pm) and Nicky Horne took the weekend overnight slot. Johnnie Walker began a run on Saturday afternoons and Richard Baker replaced Hugh Scully on Melodies For You. Alan Freeman's Their Greatest Bits replaced Hayes Over Britain on Tuesdays. Mike Harding replaced Jim Lloyd (retired) on Folk on 2. Bob Harris Country replaced David Allan's Country Club. Debbie Thrower left Radio 2. Steve Madden left Radio 2 and was replaced by Katrina Leskanich on weekday overnights. Jools Holland joined the station and Mark Lamarr hosted Shake, Rattle & Roll. Russell Davies took on the Sunday slot left by Benny Green who died. Charles Nove left Radio 2. In October Alan Keith celebrated his 90th birthday. During the 1990s, Radio 2 broadcast live from the Cambridge Folk Festival and Fleadh in Finsbury Park.
Jonathan Ross
1999 and Ed Stewart replaced Pam Ayres, Sundays 5.00-7.00pm. Des Lynam left Radio 2, so Johnnie Walker took on Drivetime Fridays with the rest of the week and passed his Saturday slot to Janice Long (3.30 - 5.30pm). Steve Wright started his regular weekday afternoon slot. Jonathan Ross starts his Saturday 10.00-1.00pm show. Lynn Parsons resumed her weekend overnight slot replacing Nicky Horne. Pam Ayres and Hugh Scully left the station.
Still going strong on Radio 2 at the end of the 90's were stalwart shows Your 100 Best Tunes, The Organist Entertains, Listen to the Band and Friday Night is Music Night.