Radio 2 History
1980-89
Ray Moore became the permanent presenter of the Early Show in 1980 when it was extended to 5-7.30 am. He chatted about Pat 'n' Mick, the scampering Boggarts, and the goings on behind the BBC announcer's bike shed. Travel reports invariably included references to 'Gatport Airwick" and 'abominable loads'. His cheeky daily handover chat to Terry Wogan is fondly remembered. Ray campaigned for Children in Need during the 1980s and his annual sponsored runs raised thousands of pounds for the Charity. Ray passed away in January 1989, after a battle with cancer.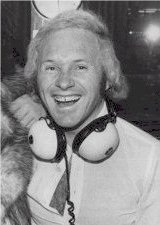 Afternoon DJ - David Hamiton
In 1980 'Diddy' David Hamilton took over Radio 2's weekday lunchtime show and then in 1981 took over the weekday 4:00 to 5:45pm afternoon show. In 1983 he celebrated 10yrs at Radio 2 with a special live programme from Skegness. In early 1986 this show began broadcasting from 3:30 to 5:00pm. In April 1986, Radio 2 music policy was changed by Frances Line to an oldies format. Hamilton quit in November that year, claiming that the playlist had become too old fashioned.
Nigel Ogden replaced Robin Richmond on the Organist Entertains in 1980.
Gloria Hunniford became the first woman to present a regular daytime show on Radio 2 when she started in January 1982.
Listen to the Band introduced brass band music 1984 with host Charlie Chester. The popular Sunday lunchtime record request show for BFPO Two-Way Family Favourites hosted by Jean Challis was axed the same year, after a continuous run of 39 years.
Paul Burnett, hot from Radio 1, opened up the Radio 2 airwaves in 1984 with the weekday 5am early show.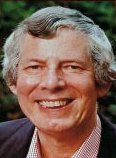 Derek Jameson - 80's breakfast
In 1985 Terry Wogan left Radio 2 breakfast to present the Wogan chat show. Ken Bruce took over for a year before Derek Jameson held the reigns for the rest of the decade and beyond.
Canon Roger Royle brought his engaging style to Radio 2 in 1985. He presented Good Morning Sunday, a mix of music and religious chat with a special guest in 1985; a show he would present for five years. He remained on Radio 2 with a regular Sunday slot until 2007.
Ex-Manfred Mann singer Paul Jones was heard on weekends presenting a new Rhythm and Blues music show in 1986, a show he fronts to this day.
Jimmy Young interviewed Mrs Thatcher and broadcast from Sydney at Christmas 1987 and Hong Kong in 1989.
In 1986 60 year-old Light Programme stalwart David Jacobs (Mr.DJ) was heard weekdays 1-2pm as well as on Sunday evenings. He broadcast his nostalgic lunchtime music show for six years.