Kenny in June 1967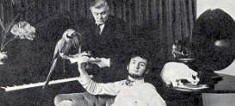 Kenny with his 'Butler' Crisp
( played by actor Brian Colvin).
Kenny holds the record whilst
sitting on his car (1968)
Frequently in the music news, these
magazine covers are from 1968 and 1969.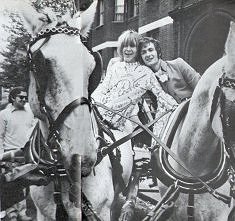 Kenny weds Lady Lee (1969). The couple
published 'The Lee and Kenny Everett
Cookery Book' in 1976. Lee was the
former partner of Billy Fury. Their marriage
lasted 17 years.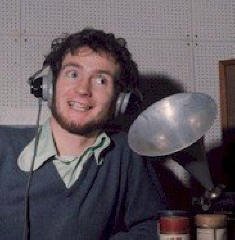 With the 'Grannyphone' (1970)
Kenny Quote
- July 1970 -
"I hate DJs who just say.. 'that was Ricky Twinge and the midwives, the time now is 10.15 on your groovy platter station, Radio 1, and now a great big biggy from a really outasite band - 'You're Too Much' by the Stoatcatchers"
Kenny Everett was a disc jockey and television comedian. Born in Liverpool in 1944, his real name is Maurice Cole. (He chose his stage name after Edward Everett Horton, the film star, who was his childhood hero). His entertainment career began when he bought 2 tape recorders as a teenager, recording himself in the style of BBC presenter and comedian Jack Jackson and sending tapes to his friends around the country.
He sent some to the BBC, who played it on the Home Service channel. They further requested that he become a presenter on the Light Programme, introducing 'sweet' music such as the Northern Dance Orchestra, but Kenny declined. Instead, he approached Radio London in 1964 who took him 'on board'. His madcap broadcasts for pirate Radio London won him a large following, however he was fired because he voiced his opinion on-air about a Radio London religious programme, but was taken back 6 months later.
Radio 1
In early 1967, Kenny quit the pirates and approached the BBC again, who provided him a programme on May 20th presenting a preview of a new Beatles album. He joined Radio One in October 1967, presenting Midday Spin.
Ken was a disc jockey who was an entertainer, with humorous jingles, and jokes sometimes at the expense of figures of authority.
Among Everett's favourite creations was the Captain Kremmen series - a cross between Dan Dare and the Goons.
He was very much involved in the launch of Radio One, making numerous jingles and promotions for the new station. He was also responsible for the Corporation s nickname: 'the Beeb'.
One of the highlights of the early Radio One schedule was Kenny Everett's weekend morning show (started January, 1968) which featured a number of comic characters, including his butler, Crisp, and Gran (voiced by Kenny himself). It took Kenny up to 2 or 3 days preparation time to prepare each show. He began his TV career in June 1968, with a Granada (UK) TV production, Nice Time.
Fired
He was famously fired from Radio 1 in July 1970 for suggesting that the wife of the then Minister of Transport Mary Peyton had passed her advanced driving test by bribing the examiner.
He then went on to work for local BBC radio stations Bristol, Solent, Medway, Merseyside, Brighton and Nottingham.
He did, however briefly return to Radio 1 in 1973 with a series of shows recorded weekly at his cottage in North Wales.
He went on to broadcast on Capital Radio in October of that year and was not heard again on BBC Radio until the early 1980's (Radio 2!).
Television
His later British ITV career included 'The Kenny Everett Video Show' (1978-1981) saw Kenny playing such characters as 'Sid Snot' and 'Cupid Stunt'! He went on to star in a similar series for BBC, broadcast 1981-1988. His Radio career continued on London's Capital Gold until 1993.
Sadly Kenny passed away in 1995 aged 50, a victim of Aids.
Comeback
In December 2005 the BBC announced plans to re-broadcast highlights from Kenny's Capital Radio days over a four week period in early 2006 on their digital radio station BBC7.
RADIO REWIND AUDIO CLIPS

Please check Audio Help Page in case of difficulty downloading. You will need a username and password. Please register. Then you will be able to login.

Audio BBC
Kenny's Trailer for Radio 1 (1967)
Kenny gives good VFM (October 1967)
Kenny's Radio 1 show ( mp334Kbps)
Kenny makes a special jingle for the new Radio 4! (Mp3)
What's On trail (1970) Low Quality
Kenny on Radio 1 talking to Dave Cash 1969 (20kbps 45 seconds mp3)
Kenny with Dave Cash with 'Lobelia' May 1970 (mp332kbps)
Late speaking after Status Quo's 'down the drainpipe' 1970 (mp332kbps)
Playing the 'Give it a Spin' jingle 1970 (mp332kbps)
Kenny's 'Aunty BBC is the Groove' jingle 1970 (mp316Kbps)
End of Show with Gracie Fields 'Sing as we go' (mp316Kbps)
'Someone' writes to Scene and Heard! (c.1973)
Radio 2 Show in 1982 including a Captain Kremmen Episode!