1945- 1984 (39 years)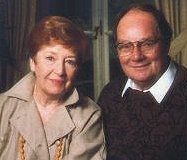 Regular presenters Jean Metcalfe and Cliff Michelmore married in 1950.
A popular record request programme designed to link families at home in the UK with British Forces Posted Overseas (BFPO).
The forerunner was aired during World War II on the General Forces programme. Titled 'Forces Favourites'; BFPO and their families at home could request a favourite record along with a dedication. At the end of the War, the show was renamed Family Favourites and broadcast on the Light Programme.
The half - hour Tuesday evening show was expanded in 1960 to a longer 90-minute Sunday show with a radio announcer telephone link from the BFPO Country. One presenter was based in London, the other in a BFPO station in either Canada, West Germany, Singapore Hong Kong or even Australia. Each presenter took turn to read a dedication and introduce the next record. Amongst the regular presenters were Jean Metcalfe (b1923 - d2000) Cliff Michelmore, (b1919 - d2016) Michael Aspel, Sarah Kennedy and finally actress Jean Challis.
In the 1950's and early 1960's Family Favourites was one of the few BBC radio programmes devoted exclusively to records, so its audience in consequence was huge, going far beyond the audience at which it was aimed. It offered the 'real thing', the popular records themselves which by the late 1950 s were what people wanted to hear, as against versions of the songs being played live in a studio in London.
With the launch of the new BBC radio networks in 1967, the show was listed by Radio Times as a Radio 1 show, and it was relayed on Radio 2. Two - Way Family Favourites became exclusive to Radio 2 in 1970 until it was axed in 1984.
AUDIO CLIPS
Theme - With A Song In My Heart by Andre Kostelanetz & his Orchestra.
The following clips are taken from a 1964 show featuring Jean Metcalfe.
If you can positively identify the male announcer, please contact us.