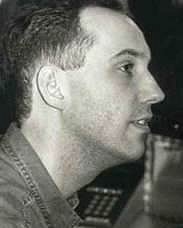 With Radio 1 for four years from 1990, Neale James presented the early show, Megahits and Rockline features.
Neale wrote to Radio Rewind in July 2004.."I was certainly not one of the most famous there, that s for sure I'm humbled to have worked with the likes of Wrighty and Bates to be honest! But it was a lot of fun while it lasted a hell of a blast!"
Leaving Radio 1 just after Matthew Bannister's 'clearout period', he went to Berkshires' 2-Ten FM as breakfast show presenter, and GWR-FM. From there, Neale joined forces with Bruno Brookes in 1997, to open the Radio School in Hungerford, Berkshire.
With Bruno, he set up Storm Digital Broadcasting in 2000, which became Immedia Broadcasting in 2003, providing the only live networked retail radio stations in the UK.
He now works as Programme Director within Immedia Broadcasting and is a professional photographer, working with radio presenters and new pop acts.
Thanks to Neale James for providing content here.