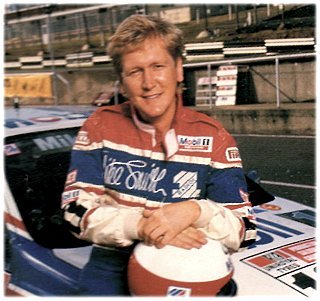 Mike Smith was a motor racing enthusiast. He built his own cars and drove in several British Touring Car Championship races in the '80s.
Television
Mike is famous for presenting TV shows such as The Late Late Breakfast Show (1982-1986) with Noel Edmonds, a BBC live show on Saturday evenings presented by Noel Edmonds, with Mike and John Peel. The series featured comedy, pop music & regular features including "The Hit Squad", with a hidden camera and "The Golden Egg Awards", featuring out takes. "Give It A Whirl" found a member of the public calling to have the "Whirly Wheel" spun to select a stunt, which would be performed on the next show. The popular show was cancelled following the untimely death of BBC worker Michael Lush.
Mike co-hosted the critically acclaimed BBC production of Ghost Watch (1992) where he presented the phone-in and Sarah Greene was the reporter in the house itself. The BBC gave a whole evening to an 'investigation into the supernatural'. Four presenters and a camera crew attempted to discover the truth behind 'The most haunted house in Britain'.
Death
Mike died on 1st August 2014 from complications during heart surgery.
Noel Edmonds, said: "I am totally stunned and heartbroken for Sarah and his family. He was so much more than simply a presenter. Mike was that rare individual - the consummate broadcaster in an era when professionalism, dedication and hard work were truly valued. I wish I had told him more forcefully and frequently how much I admired his talent and valued his support."

Ex Radio 1 Sybil Ruscoe said Smith was "a generous colleague" who encouraged so much while reading the news" on his breakfast show.
Phillip Schofield, said "There are no words. My wonderful, bright, funny, thoughtful friend Mike Smith has passed away"
A BBC spokesperson said: "We are saddened to hear of Mike's passing. He was a talented presenter and a brilliant Radio 1 Breakfast Show host, and our thoughts are with his family."
2014 news: bbc
RADIO REWIND AUDIO CLIPS

Please check Audio Help Page in case of difficulty downloading. You will need a username and password. Please register. Then you will be able to login.

Audio BBC
Mike having problems in '86 64kbps 32kbps
Starting Mike's Breakfast Show 1986
Mike's Milkman Alan Perkins 20kbps
Mike asks you to try 104.8FM in London 32kbps
Factasia Competition (1986) (2 mins)
Breakfast Show clip - Mike (1987)