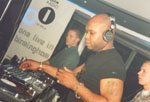 Fabio live from Birmingham
Fabio and Grooverider
Fabio and Grooverider are two ex-pirate disc jockeys from South London radio 'Phase One', where they D.J'd from 1987.
They were resident DJ's at Britain's ground breaking clubs, playing and introducing drum and bass, house and techno to the UK. They have played at raves and acid house parties for many years. Fabio and Grooverider have also both run successful record labels.
Since 2001 they have fronted a Saturday night show on Radio 1.