Canap in 1967; (L-R) Pete Brady,
Keith Skues, Dave Cash and
Tony Blackburn.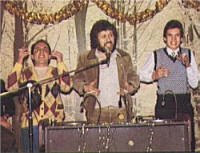 1980 Spinning the discs L-R
Andy Peebles, DLT and staff
Jon Kutner (later author; Complete Book of the British chart)
1980 Tommy Vance tucks in
1980 Jimmy Savile with
secretary Sue Drumm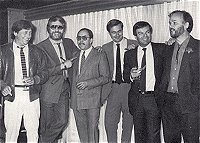 1983 drinks before lunch
1986 (L-R from back) Adrian Juste, Janice Long, Mike Smith, John Peel, Anne Nightingale, Simon Mayo, Dave Lee Travis, Mark Page, Gary Davies, Dixie Peach, Mike Read, Peter Powell and Steve Wright celebrate in style.
From the launch of Radio 1 in 1967, Radio 1 DJs traditionally got together to celebrate Christmas, and a special annual programme was recorded at one of Broadcasting House's council chambers.
With the BBC canteen serving a full festive dinner with drinks, the show was heard on Christmas Day lunchtime with most of the current presenters briefly interviewed and each choosing their favourite record to be played on the programme. Dave Lee Travis was compere for the first few years, followed by Mike Read in later years.
In a 1997 interview, John Peel called the party "the most appalling event of the year." He recalled that after one such lunch he, along with Kid Jensen and Paul Burnett, fuelled by drink, waited in the BBC car park to beat up Simon Bates, who never arrived "fortunately, because we might have suffered an embarrassing reverse as he's probably stronger than us"
From the early 1990's it became a private affair held at Camden Lock in London.
Christmas Day Show
Dave Lee Travis 1981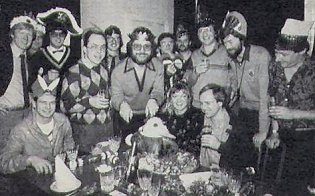 1981 Lunch Back row (L-R) David 'Kid' Jensen, Paul Gambaccini, Mike Read, Andy Peebles, Steve Wright, Dave Lee Travis, , John Peel, Simon Bates, Adrian Love, Richard Skinner. Sitting at Table (L-R) Peter Powell, Annie Nightingale, Paul Burnett.
Note; Audio distortion can be heard on these sound clips periodically due to the atmospheric conditions prevalent on the AM band during the original recording.