Dave Cash was born in Chelsea, England in 1942. His family moved to Vancouver, Canada in 1949. A childhood split between boarding school in England and holidays in Canada honed an early skill to communicate, as he was considered a foreigner by his peers in both countries.
It was while working as a copywriter for a Vancouver Mens Wear Shop, that the chance to appear on radio presented itself courtesy of an actor with a cold. Dave recorded the voice-over and within three weeks he was signed for more commercials and given an invitation to "Try it as a DJ"
At the age of 21, a letter from a friend in England outlining the start of Pirate Radio and describing the opportunities for anyone with radio experience, brought Dave home to Britain.
An accident of fate brought Dave together with Radio Londons programme director, Ben Toney, who persuaded him to join the station as the afternoon DJ and commercial writer. Once on board the ship he teamed up for the first time with the late Kenny Everett for the "Kenny & Cash Show", the most successful of all Pirate Radio programmes.
Radio 1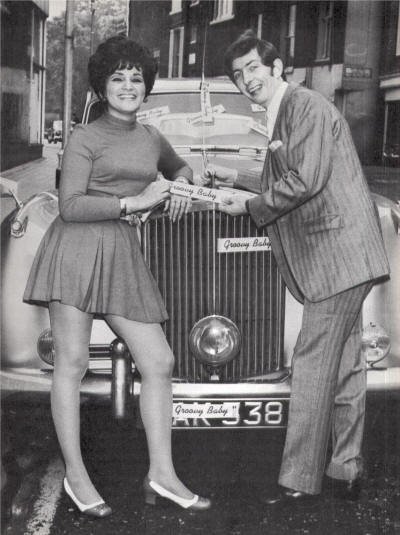 With the passing of the Marine Offences Bill and the virtual end to pirate radio broadcasting, Dave joined Radio Luxembourg and the BBC Light Programme. In 1967 he became one of the "first day" DJs on Radio One, originally presenting former BBC Light Programme's lunchtime shows Monday Monday, Pop Inn, Parade of the Pops, Pop North.
In 1968, Microbe, one of the characters from the BBC programme featured in his own Top Ten hit "Groovy Baby". Daves "Cash At Four" Sunday Show attracted a guest list that included Peter Sellers, Spike Milligan, John Cleese, Lady Antonia Frazer, Rolf Harris, and David Bellamy. In 1969, Dave received the Carl Alan Award for his live "Good Time Music Show" for Mecca. Dave also joined Tommy Vance, Kenny Everett, and Maurice Gardet to launch the first English speaking station in France, Radio Monte Carlo International [M.C.I.].
Television & ILR
In 1970, Dave wrote and performed "The Radio Programme", a twenty-six part sitcom/music show produced at HTV and sold to the UK networks, Europe and NBC America. Guests included Sammy Davis Jr., Richard Harris, and Terry Thomas.
Dave Cash has been synonymous with ILR since its launch in 1973 when he was part of the original team that put the first entertainment commercial radio station, Capital, on the air. Dave had two roles at Capital: one as Production Manager, the other as a presenter.
Dave remained with Capital for 21 years re-introducing the Kenny & Cash Show, Hosting COD (the highest rated Quiz in ILR history), and latterly, weekend programmes for Capital Gold. During his time with Capital he was seconded to Radio West as their first Programme Director, Invicta Radio as assistant to the Managing Director, Michael Bukht, for their re-launch and MTV Europe as launch consultant. In the 70s he appeared as himself in the cult film Quadrophenia. In 1988, he co-wrote and produced "At Last It"s Hogmanay" with Billy Connolly and Robbie Coltrane for Channel 4.
1990s to 2016
Dave resigned from Capital Radio in 1994 to spend more time writing and to develop his other interests in radio Management, training and consultancy.
Dave's first novel, The Rating Game, was published in 1991. It Made the Best Seller charts in just four weeks. This was followed in 1993 by All Night Long, based on a pirate radio station in the sixties, and was the first book to be published with its own soundtrack on CD. In 1995, King Of Clubs, a political thriller based in Romania at the time of Ceausescus overthrow, was published by Reed Consumer Books.
All Night Long has been optioned for film by Exentric Productions and Dave is currently writing the screenplay. He is a consultant with several media companies in regard to programming, sales, Marketing, acquisitions, and new licence applications. He also presented a weekend programme for Londons Liberty Radio.
"Just to keep my hand in" Dave explained in a recent newspaper interview.

In November 2000, Dave left the commercial sector and rejoined the BBC where he presented programmes for Radio Kent, Radio Cambridgeshire, and Radio Essex, as well as Country music shows for Saga Digital and Primetime Radio.
Death
Dave Cash died suddenly at his home in Hollingbourne, Kent on 21st October 2016 aged 74. Tributes were paid on his twitter page by fans, fellow and former DJ's and family.

RADIO HIGHLIGHTS

1965 Radio London - Kenny & Cash Show
1966 BBC Light Programme -
Host of "Monday, Monday" - Live Lunchtime Band Show
DJ - Midday Spin & Whats New
Radio Luxembourg - Friday & Saturday "Weekend Parties"
1967 BBC Radio One -
Weekday Afternoon Shows
Kenny & Cash Christmas Special
Sunday Afternoon - "Cash At Four"
1970 Radio Monte Carlo
1973-87 Capital Radio
Kenny & Cash Breakfast Show
Afternoon Show including COD Lunchtime Quiz

1989-94 Capital Gold
Weekday Early Breakfast
Sunday Mid Morning.
1995-98 Guest Presenter and Special Events Programmes
RTL Country 1035 (London)
Lite AM re-launch (Manchester)
EKR launch (Pan-European Satellite)
Liberty Radio (London)
BBC Radio Four
1999-2005 BBC `Radio Kent, BBC Essex, BBC Radio Cambridgeshire Primetime/Saga Radio
2004 Pirate BBC Essex to Mark the 40th anniversary of Pirate Radio.
RADIO REWIND AUDIO CLIPS

Please check Audio Help Page in case of difficulty downloading. You will need a username and password. Please register. Then you will be able to login.

Audio c BBC
Dave Cash Radio Programme in 1969